With skyrocketing food prices, it is not easy to keep your grocery bill under control. But there are ways you can plan nutritious yet inexpensive meals for your family.
Don't Menu-Plan Until You Know What's on Sale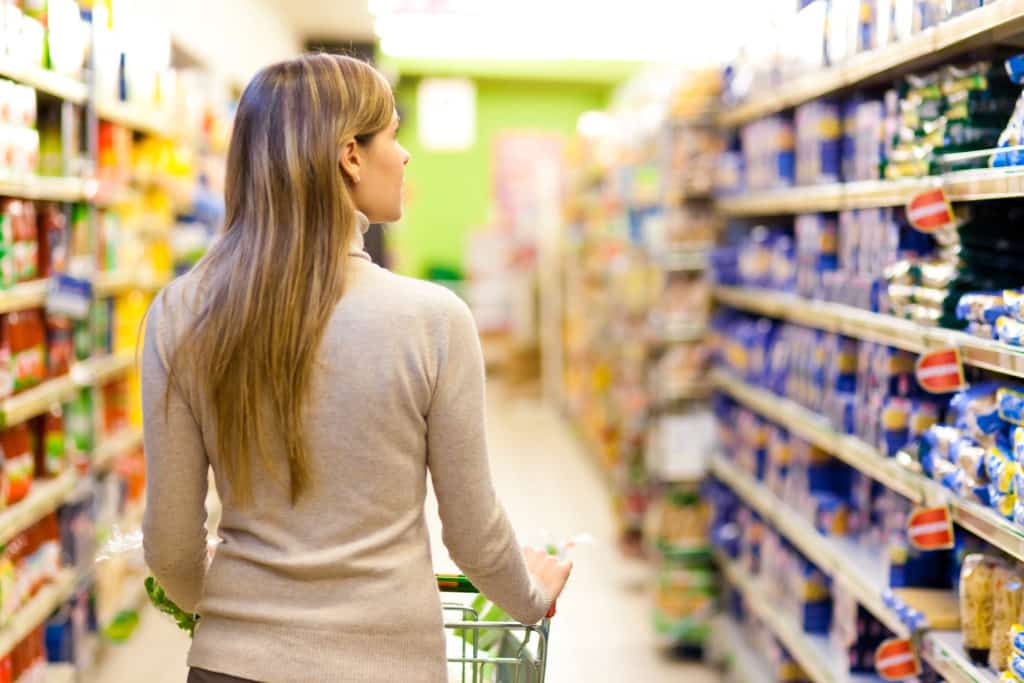 Most meal planning involves picking your family's favorite meals, making a list of the ingredients, then buying everything, so you have all the accouterments for dinner.
This is an expensive way to go about meal planning – just because you feel like eating chicken pot pie this week doesn't mean that chicken will be on sale. You may be paying top dollar for the pleasure of eating pot pie!
Instead, before you even step into the grocery store, take a look at your supermarket circular. If there are two supermarkets in your area, you may want to look at both circulars to see what's on sale.
For online versions of what's on sale in your local grocery and other stores visit: Sunday Saver.
Plan Your Meals According to What's on Sale
Let's say onions are on sale for buy-one-get-one-free and you buy two bags. You may wonder what on earth you will do with all those onions.

The same goes for all those carrots, potatoes, or chicken breasts you bought on sale. Not to worry if you have a well-stocked pantry with the basics (spices, oils, flour, stocks, sweeteners, tomato paste, etc.) there are plenty of ways you can use them to create delicious meals.
Focus on making meals that fit into one of these categories
Soups and Stews
Salads/Pasta
Egg Dishes
Casseroles
Stir Fry/Grilled
Pies
With the onions, chicken, and carrots you got on sale, you can make a variety of meals: chicken stew, a salad using sautéed chicken; chicken casserole; a stir fry, and, yes, even a chicken pot pie.

Then don't forget vegetarian meals such as onion or carrot soup. That's enough meals for an entire week, with leftovers for lunch.
Of course, you may not want to eat chicken or soup every night. But say you also purchased pasta, green peppers, and canned tomatoes on sale on the same shopping trip.

You can mix up the week's menu with grilled peppers drizzled with tomato sauce on a bed of pasta, or an omelet filled with grilled peppers and onions with cheese …soon you have a varied menu that is both delicious and nutritious.
Don't Be Afraid to Experiment
Cooking is not like baking – more often than not, "experiments" are often edible and even yummy (rather than a flop). Use your cookbooks to get ideas and understand how on how good meals are created – not just to follow recipes rigidly down to the last grain of salt.
Once you have the basics down, of, say making soup or stew, you can branch-off and use any ingredient that you find on sale at the moment. You'll learn the art of cooking and the satisfaction of eating well on a budget.
Turn Leftovers into a new meal.
Does anyone really like leftovers? Yep! I do. Especially if I can spruce them up.

When I was younger, we used to poke fun at my mother all the time for the way she used leftovers. I remember than every time we had a cake for someone's birthday, we would always joke about having "cake soup" tomorrow for lunch.

But the truth was, my mom knew how to use her food budget wisely. Turning leftovers into something new is a GREAT way to save money!

For example, If you make tacos for dinner tonight, leftover taco meat will make great chili tomorrow. And the extra tomatoes and greens can become chicken salad for lunch.
Salsa leftover? Use it for some Salsa chicken (combine that with leftover chicken from the salad).

Sour cream from the tacos? How about adding some mushrooms and a pack of gravy to make a delicious stroganoff?
The point is this: Don't let things be wasted. Be smart about using up the foods you purchase and eat accord to what you have rather than what you want.
Looking for Cheap meal ideas?
Check out this post from the simple dollar for 20 Dirt Cheap Meal Ideas for big families

I hope these tips will inspire you to reduce your food budget and pocket a little extra money this month!